Recruitment, Hiring, and Compensation
Set in the heart of Houston, Texas, Rice is a research university that fosters diversity and an intellectual environment that produces the next generation of leaders and advances tomorrow's thinking. And there is so much to love about being a Rice employee: comprehensive benefits, inclusive community, access to great services and facilities, and even growing opportunities! Your pay is just a piece of the total value of working at Rice.
As a leading research university with a distinctive commitment to undergraduate education, Rice University aspires to pathbreaking research, unsurpassed teaching, and contributions to the betterment of our world. It seeks to fulfill this mission by cultivating a diverse community of learning and discovery that produces leaders across the spectrum of human endeavor.
Rice University Mission Statement
Find Your HR Contact
You can find your assigned contacts for Talent Acquisition and Compensation here or by contacting our teams directly:
Talent Acquisition Specialist jobs@rice.edu
Compensation Specialist compensation@rice.edu
We look forward to working with you!
---
Recruitment and Hiring
Our Philosophy

Rice University has hiring policies and procedures that address statutory requirements, such as the Civil Rights Act, the Americans with Disabilities Act, the Texas Commission on Human Rights Act, and others. In addition, Rice University is an affirmative action/equal opportunity employer. Our hiring policies and procedures ensure equal employment opportunities for all applicants, uniform reporting procedures, and compliance with federal and state laws and regulations. Good hiring practices allow us to:

Hire efficiently in regard to both time and cost;
Hire the most qualified applicants; and
Avoid claims of unlawful discrimination

The Talent Acquisition Team of the Human Resources Department offers consultative guidance to hiring managers and provides assistance to the hiring manager in navigating the hiring process and identifying and hiring the best applicants. Talent Acquisition Specialists* are available to discuss search strategy, schedule interviews, assist in the preparation and/or participate in interviews and schedule skills assessment testing when appropriate. The knowledge and ability to assess applicants' qualifications, conduct effective interviews, and make objective hiring decisions is critical.

POLICY 413 - Staff Employment

POLICY 404 - Dual Employment and Multiple Jobs

POLICY 425 - Employment Background Checks

Our Process

The recruitment and hiring process is initiated in iO via the Hiring module, which serves as Rice's online job posting and staff recruitment system.

Each school/division has a dedicated Talent Acquisition (TA) Specialist to help them navigate the recruitment and selection process.

Once a position is posted, your dedicated TA Specialist can provide a variety of services to you during the recruitment and hiring process, including:

Devising a recruitment strategy for your open position
Additional screening of applications/resumes
Assisting with interview preparation (selecting the right type of interview, interview process, collaborators, interview questions., etc.)
Conducting initial phone screenings/interviews and/or face-to-face interviews
Participating in and/or assisting with departmental/panel interviews
Preparing for reference checks

As a Rice employee, you can access iO (http://io.rice.edu) SSO, using your NetID credentials. Resources and reference guides for hiring staff in iO are available here.
---
Hiring Guide for Supervisors
The Hiring Guide includes a timeline with links to tools and resources for supervisors.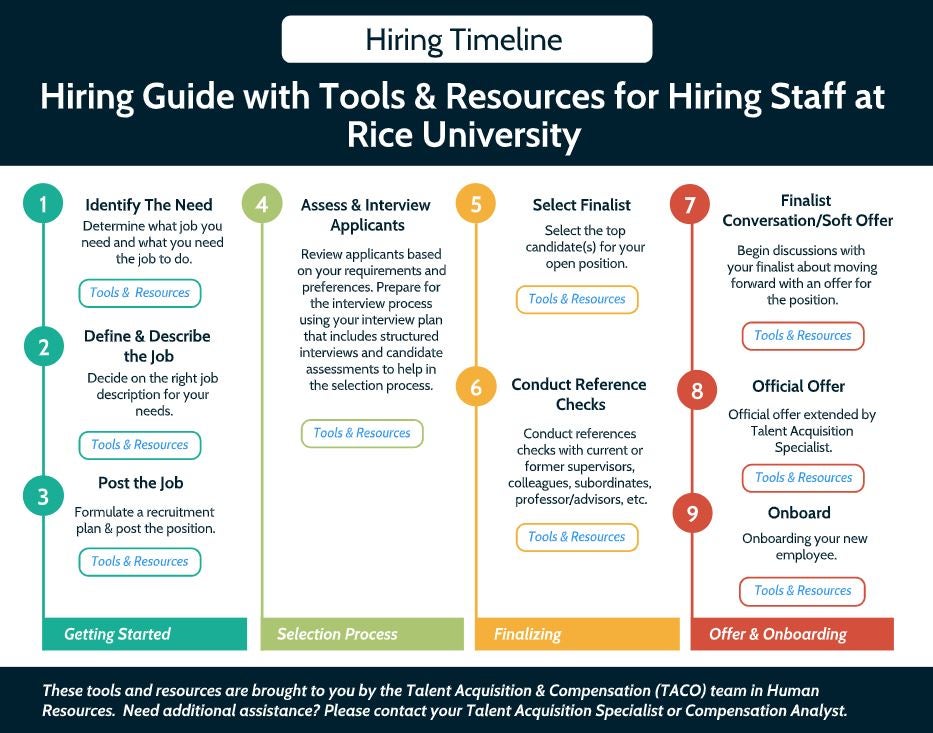 ---
Compensation
Staff Compensation Philosophy

Rice considers the following elements as particularly important in determining the pay ranges for particular classes of positions:

Market pay rates in relevant employment markets
The value of total compensation at Rice (direct pay such as salary and contributions to the Rice Retirement Plan; value of benefits such as medical insurance and paid time off; and the intrinsic value of working at Rice) relative to relevant employment markets.

Rice considers the most important element in determining the position in the pay range of individual staff members to be the staff member's work performance relative to performance expectations, paying particular attention to the exceptional instances in which superior performance leads to a disproportionate, positive impact on the achievement of university goals.

POLICY 410 - Staff Compensation Policy

Responsibilities

The Compensation function is responsible for plans and programs related to cash and non-cash methods or types of pay and incentives. This is often referred to as direct compensation.

Responsibilities include:

Wage and Salary Administration
Pay Structures/Schedules
Job Evaluation/Classification
Wage and Salary Survey participation
FLSA and other Regulation Compliance

Job Structure

Rice University's staff job structure is a system that organizes jobs into groups that share common functional responsibilities and similar types of required qualifications (education, experience, skills, certifications, etc.). The job structure is also a tool for staff to become familiar with the different types of jobs at Rice, explore career opportunities, create development plans, and build a career at Rice.

For more information on job structure, please visit the Clear Career Progression on the Careers At Rice page.

Pay Structure

Rice University's staff job structure is market-based and may be adjusted annually. To ensure the pay structure remains competitive, with the market, a comprehensive review is conducted every three to five years.

FY 2024 Pay Ranges are available at this link

Staff Pay Administration Guidelines

Rice University administers compensation practices, guidelines, and programs that are market competitive, internally equitable, and reflective of the roles and responsibilities needed at the university. These practices are applied equitably and without regard to an individual's age, disability, gender, gender expression, gender identity, genetic information, national origin, race, religion, sex, sexual orientation, or veteran status.

Rice's pay practices and compensation programs balance structure with flexibility to be competitive within markets and for required talent and support responsible stewardship of the University's resources.

The full document is available here: https://rice.app.box.com/s/6o6a1gigndb70l8hr8h52vlmdz6ntu98

Crisis Pay

Below are the Crisis Pay Guidelines as developed by the Crisis Pay Committee which met to create the guidance for crisis pay situations. The Crisis Pay Committee included: Jerusha Kasch of Crisis Management, Jessica Solomon of RUPD, Kim Parr of Payroll, Mark Ditman of Housing & Dining, Renee Block of Risk Management, Kathy Jones of FE&P, and Rebecca Gould, Wayne Robinson, and Angela Lipari of Human Resources. These guidelines were approved by the Crisis Management Advisory Committee. Crisis Pay start and stop times will be defined by the Crisis Management Team based on operational periods and resource requirements.

Stages of a Crisis

Mitigation – Preparing for known incidents
Response – Responding to an incident, including the "Ride-out" Team
Recovery – Transitioning from response into recovery to get the University back to normal (or new normal) operations

Types of Work Designations

Essential personnel – Employees responsible for safeguarding people and property and maintaining critical operations. There are three types of essential personnel:
Essential Working Remotely: Those that can work remotely during a crisis (business continuity)
Essential On-Campus Shift: Essential personnel who must report to campus for work and are assigned designated work shifts (not requiring 24/7 availability)
Essential On-Campus 24/7: Essential personnel who must report to campus for work and are required to be available 24/7

Note: Essential personnel in the Essential On-Campus Shift and Essential On-Campus 24/7 groups who are unable to report to work during times of crisis will be paid the same as non-essential personnel.

Non-essential personnel – Employees are expected to work, if possible, from their home (assuming no damage to the home, availability of power/internet, and if the nature of the work is such that it can be done remotely).

It is the responsibility of each school and division to determine which positions are essential based on the type of crisis as outlined in the Continuity Of Operations Plan (COOP).

Types of Pay

Employee pay during a crisis is outlined in detail in the Crisis Pay Guidelines Matrix. Please refer to it for more information. A brief summary outlining our practices is included below:

Nonexempt Staff

Crisis Hours Worked – Employees are paid at 1.5x or 2.5x regular rate of pay for all hours worked during the crisis; hours worked count towards overtime
Scheduled Hours Pay – Employees are paid at their regular rate of pay for all hours they are normally scheduled to work, but were unable to due to the suspension of normal operations during a crisis
This works like winter recess; it is used to keep our employees' pay whole the crisis for hours they are not able to work; hours do not count towards overtime
Regular Pay – Employees are paid at their regular rate of pay, hours count towards overtime Crisis Pay – Campus Waiting – Employees are paid at the regular rate of pay; hours do not count towards overtime
This pay code is used during the mitigation stage of a crisis for essential personnel that are required to remain on campus to be available for the response stage of a crisis
This pay code is used during the response stage of a crisis for Essential On-Campus 24/7 personnel during a time not worked, but required to remain on campus to be available to work at any time (ex. pay code used for ride out crews during sleep or downtime)

Exempt Staff

Schools and divisions may use their discretion in awarding one-time payments or PTO to essential exempt staff who went to extraordinary lengths during a crisis. Extraordinary efforts would be defined
as they are for nonexempt staff, but would also include any exempt staff working remotely, 24/7 coverage, to maintain communications and operations for the campus.

More information:

Fair Labor Standards Act (FLSA)

The Fair Labor Standards Act (FLSA) is a federal regulation that:

Establishes the criteria for a job to be exempt or nonexempt
Establishes the federal minimum wage required for all nonexempt jobs
Guarantees overtime for nonexempt jobs for hours worked over 40 in one workweek (at Rice the workweek begins Sunday at 12:00 am and ends the following Saturday at 11:59 pm)
Governs the employment of minors

Additional information: https://www.dol.gov/agencies/whd/flsa

Staff Position Updates, Reclassifications & Promotions

There are three types of staff position update actions for incumbent-occupied positions: position updates, reclassifications and promotions.

Position Update

A position update includes minor changes to the job responsibilities / job description content; no
substantive changes are made.

This may include a change in job title and/or pay.

Reclassification:

This position update includes substantive changes that result in a change to the position's assigned job classification. This may also include movement to a new job family or subfamily. This is often the result of a change in the needs of the department and not necessarily a reflection of the incumbent's performance (ex. Admin Asst II -> Executive Assistant I; Program Administrator II -> Academic Administrator II)

This will include a change in job classification, job title and may include a change in pay
for the incumbent if currently occupied

Promotion:

This position update includes substantive changes that result in a change to the position's assigned job classification. The intent of the action is to recognize / reward an employee's performance or contributions by updating their job description to formally reflect advanced duties / responsibilities, increased complexity, and/or a broader scope of responsibility.

This will include a change in the position's job classification, job title, and a pay increase for the incumbent.

Promotions will fall into one of the following categories:

Natural career progression - advancement to the next level job classification with the job category (management, exempt individual contributor, nonexempt individual contributor) and subfamily (ex. Accountant I -> Accountant II; Supervisor, Administrative Operations -> Manager, Administrative Operations)
Other - advancement to a job classification at a higher grade level or job level which is not in the same career progression and/or job category as the employee's current job classification (ex. Accountant I -> Finance Specialist II; Administrative Operations Specialist II -> Manager, Administrative Operations)

Promoting a Staff Member

To promote a current staff member into a new or open higher-level position, the position will most likely need to be posted for recruitment and the staff member will need to go through the recruitment process. However, if your situation is more complicated or you are unsure if this applies to you, please contact Compensation for assistance.

POLICY 406 - Promotion and Transfer

How to Update Staff Positions

You can find detailed instruction guides for each type of staff position update in the How to Update Staff Positions guide. This guide includes the process, resource, and tools for each action.